The Surrealist Picasso
1924 – 1939
dal 11/06/2005 al 12/09/2005
()
---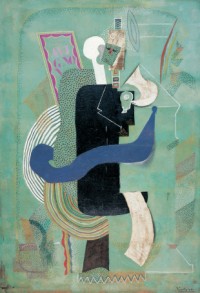 From 1924 to 1934, Pablo Picasso maintained a complex relationship with the Surrealist movement, founded by André Breton in 1924. Back in 1917, Picasso and the poet Guillaume Apollinaire coined the term "sur-réalisme" to characterize the artist's revolutionary stage design of the ballet "Parade".
"The Surrealist Picasso" is the first exhibition ever to comprehensively address this signif-icant but little known phase in the artist's oeuvre. Numerous major paintings, sculptures, drawings and prints will be presented. The more than 200 works on view at the Fondation Beyeler – for the most part loans from the Musée national Picasso, Paris, supplemented by loans from other important collections worldwide as well as by works from our own stocks – convey a compelling picture of this perhaps most personal and, at the same time, enigmatic phase in the work of the artist of the century. It was shaped not least by his encounters with Marie-Thérèse Walter in 1927, and with the important Surrealist photographer Dora Maar in 1935.
Also included are key works from the period of 1935 to 1939. On the eve of the Second World War, Picasso's Surrealism increasingly took on a new aspect, in which political engagement and poetic revolution were combined.
The exhibition will be on view at the Fondation Beyeler only. It was organized in close collab-oration with the Musée national Picasso in Paris, whose conservator, Anne Baldassari, is serving as curator.
"The Surrealist Picasso" will be accompanied by a comprehensive catalogue, edited by the Fondation Beyeler under the supervision of the exhibition curator, Anne Baldassari, and published by Flammarion, Paris. The catalogue consists of two sections.
The first, issued for the exhibition opening, is a basic catalogue in three languages (German/French/English). It contains a fundamental text by Anne Baldassari and a newly compiled, extensive chronology of Picasso's surrealist phase. The volume comprises 256 pages with 223 full-color illustrations, and is priced at CHF 49.–.
At the beginning of September 2005, a colloquium will be held at the Fondation Beyeler, the contributions to which are to be published in a second volume. Foreseen are texts by the following authors in particular: Werner Spies (on Picasso and Surrealist Sculpture), Etienne-Alain Hubert (on Picasso and Surrealist Literature), and Jacqueline Chénieux-Gendron (on Picasso's Surrealist stage sets), Marie-Laure Bernadac (on Picasso's poetic writings). The museum's own author, Philippe Büttner, will contribute a text on Picasso and Surrealist Drawing.
Pablo Picasso
Homme assis au verre, summer 1914
Oil on canvas, 238 x 167,5 cm
Private collection, New York
© 2005, ProLitteris, Zurich
---